Will Smith tore a ligament in his right knee on March 24th.
The Associated Press reported, "Smith said he was getting ready to shower after pitching in a minor league game on Thursday and was standing on one leg to take off his other shoe when he lost his balance and twisted the knee.
"'I pulled hard (on the shoe) and it stayed on,' he said. 'My knee just went up and popped. Everyone tells you there is nothing you can do about it, but you still feel like you are letting people down.'"
My colleague Jack Moore put the Smith injury in the "freak" category. This, however, doesn't mean it won't affect the club. Reports have said that if Smith elects to have surgery he will miss the rest of the season. If he doesn't have the surgery, then Smith will come back around mid season or so.
Typically, we associate March with excitement. It's spring training after all and the bloom of a new season is just on the horizon. Fans wait in anticipation while players battle out for roster spots. Even though not all spots are an open competition, there is typically always, at least, one battle that's going on.
A player's livelihood can change from simply making it on the major league roster. For some players, it'll be their first time be on an opening day roster. While for fans, it'll give them a chance to observe prospects they've never seen before compete with the big league club. In many ways, it's a glimpse into the future.
For the Brewers, this is especially true. Many jobs were up for grabs this spring, as the roster turnover was in full force. Milwaukee, in many ways, was the land of opportunity, the opportunity for young studs to make an impact on the big league roster.
However, Spring Training has its downside. Many injuries still happen in March, and especially for the Brewers. From Pro Sports Transactions: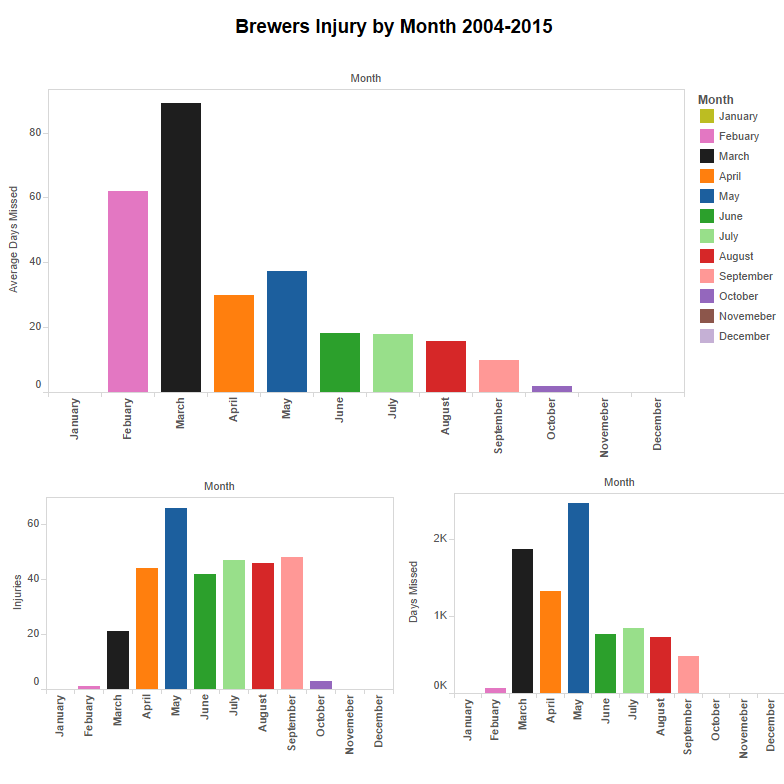 On a pure counting basis, I lied: March doesn't have many injuries. However, the injuries that happen in March are typically more severe than in any other month. The average days missed for an injury in March is 89 games, which is huge. The only month that even approaches that total for the Brewers is February, but the Brewers have only had one injury in February and that was to Yovani Gallardo. The injury forced him to miss 62 days which explains why February is second. If I exclude February from the mix, then the second month is May.
In total, Brewers players miss more time in May due to injury than any other month. May is also when the most injuries occur. Overall, May has probably been more harmful to the Brewers than March, but the injuries of March have still been more severe. In total, Brewers players average 37 days missed in May, compared to 89 in March. That's a 138% increase.
The position that has suffered the most injuries in March is pitchers. In total 1070 days were missed by pitchers in March, while only 799 of them were missed by position players. This number is also heavily skewed by the first base position which missed 633 days from injuries.
The biggest culprit to this number was Mat Gamel, who tore his ACL in the spring of 2013 and had to miss the entire season. That injury probably ended Gamel's career. Gamel had been plagued with injuries throughout his career. Unfortunately, he has never been able to stay on the field for a long enough time to make an impact, and that final injury was the nail in the coffin for his career.
This obviously doesn't mean that a player who gets injured in the month of March is more likely to miss a ton of games. There's actually a big distribution between in the number of injuries in the month of March.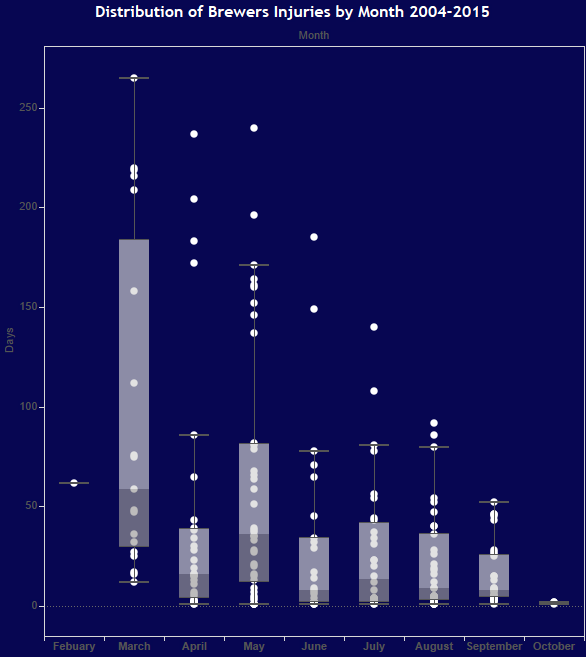 March has the highest standard deviation among days missed by players.
Brewers fans, therefore, shouldn't give out hope that Smith won't play this season. It's possible that he does, still. With that said, if Smith was to miss the entire season, it would significantly impact the Brewers. Not only in the performance column, but Smith was also a good trade chip that could bring back a solid return. If he misses the whole season, the Brewers will have to wait until next season to trade him. They will likely not be able to trade him during the offseason as teams will want to make sure the player is healthy and can perform post-injury before they trade for him.
In any case, it seems Smith will add to a number of players who have missed significant time due to injuries in March. It's not perfectly clear why there is this trend. These injuries could be old wounds that have been aggravated. It's also very possible that some players come to spring training after not playing baseball for an entire winter. They might not be used to the grind and rigors of the season, their bodies and arms not properly stretched and warmed up, which may make them more prone to lengthy injuries.
Players need the long layoff to recuperate from a demanding season, but we may sometimes underestimate the difficulties of starting a season anew. Getting back into the grind of a difficult and physical season.