Welcome to Week Three of the Weekend Recap: The optimism of last week has slightly faded as the Brewers had a bad week, capped by losing three of four against the Cardinals in Milwaukee.
| | | |
| --- | --- | --- |
| Weekend Series | Brewers | Cardinals |
| Thursday April 20 | 7 | 5 |
| Friday April 21 | 3 | 6 |
| Saturday April 22 | 1 | 4 |
| Sunday April 23 | 4 | 6 |
The big story this weekend was the starting pitching. Brewers starters only threw 20.7 innings across the four games, allowing fifteen total runs. Only Chase Anderson bucked the trend of poor starts, throwing six innings and striking out six batters, while giving up six hits, a walk and an unearned run. Anderson has been on a short leash this season, not even reaching ninety pitches in a start yet, but he's made the most of his limited time on the mound. This season Anderson has made two large changes in his pitch selection: first, he's made a concerted effort to decrease his usage of his four seam fastball, and, second, he's reintroduced the cutter to his arsenal.
Since the season started, Anderson has thrown his four seamer for 27.76 percent of his pitches. For comparison purposes, last season after July he never threw fewer than 30 percent in a start, and was consistently above 40 percent. Just as last season his increased four-seam usage came at the expense of the cutter, this season his reintroduced cutter has eaten into his four-seam fastball usage rate.
Anderson effectively scrapped the cutter last July because batters were hammering it with a .593 slugging percentage. Without wanting to look at numbers because we're still in small sample size territory, it is notable that the cutter has better movement this year: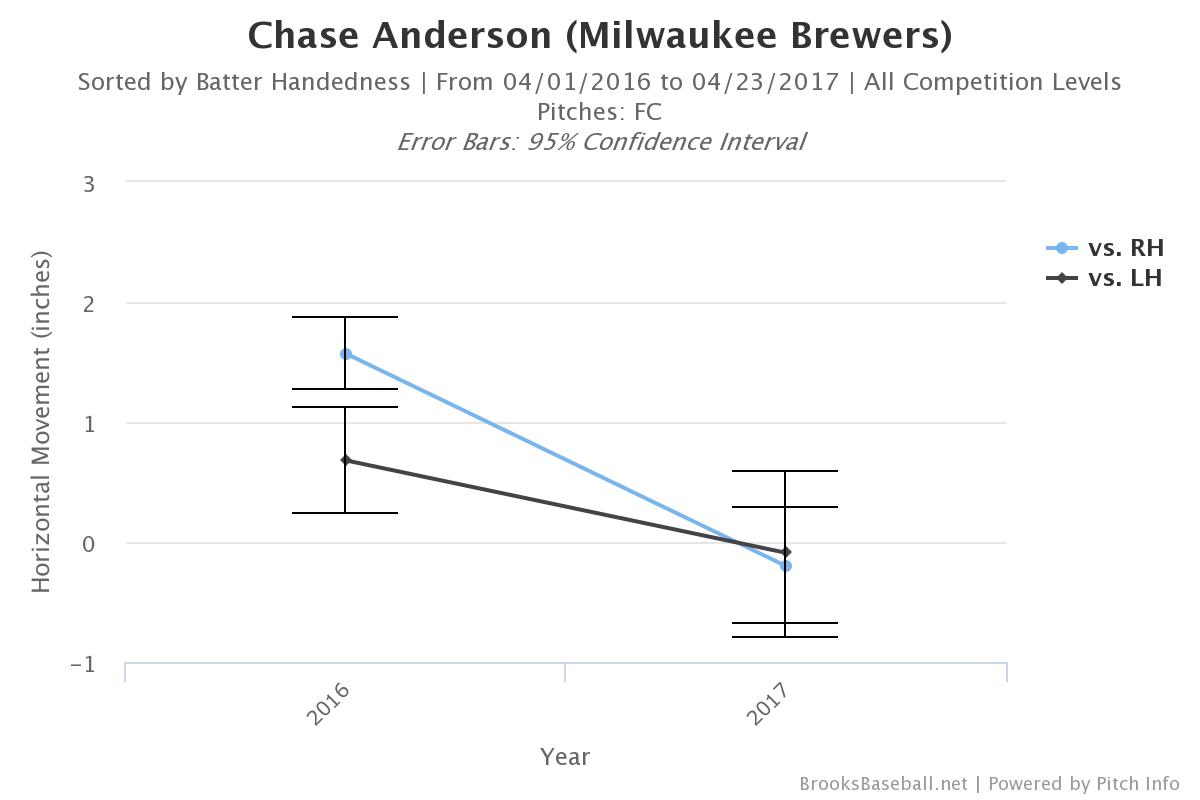 The improved cutter has added another weapon to his arsenal and increased his unpredictability: because his usage rate for every pitch is between 14.45 percent and 27.76 percent, he can catch batters off guard and prevent them from hunting for any single pitch. Thus far, it's produced very good results.
Manny Pina is on pace to surpass his career high in games before the All-Star Game, as he's been in a job split with Jett Bandy. Colin Anderle had a good look at the catcher platoon last week, but since Pina went deep for the first time this year, I wanted to highlight him as well. Pina is obviously hitting out of his mind at the moment, sporting a .369 TAv, which is 70 points above PECOTA's 90th percentile projection. Over the weekend he went 3-7 with a walk, and the aforementioned home run, part of the 9th inning comeback attempt which fell short on Sunday. Pina worked Jonathan Broxton for an eight pitch at bat, and got the home run off a low and away slider. Pina had never had an extra base hit on a slider before yesterday, a streak spanning 114 pitches.
Eric Thames walked three times on Saturday, making it the second three walk game he's had this season. In his previous big league stint, he only had two games with more than one walk (not including intentional walks), and never had three in one game. His swing percentage on pitches outside of the zone is 16.1 percent, less than half his career number coming into the season. He's currently in the top twenty in MLB in fewest pitches swung at outside the zone. After he blew up last week, pitches have adjusted in throwing him fewer strikes. As Thames lays off those pitches and is content to take the walks, pitchers will need to decide their next plan on attack.
Looking Ahead: The Reds are coming to town for a three game series to start the week. The Reds and Brewers started last week in first and second place in the NL Central. This week the Reds have fallen to second, half a game behind the Cubs, while the Brewers are in fourth place. Only two games separate first and last place in the most tightly packed division in MLB, so these games are important. Old friend Matt Garza will make his season debut in the series opener tonight.
| | |
| --- | --- |
| Reds Probables | Brewers Probables |
| LHP Amir Garrett | RHP Matt Garza |
| RHP Scott Feldman | RHP Zach Davies |
| RHP Tim Adleman | RHP Wily Peralta |