The Brewers have spent 36 days in first place this 2017 season, which is perhaps one of the biggest surprises of the MLB campaign. Even those analysts and fans that felt the rebuild and develop campaign was on the right track hardly thought the Brewers would be competitive in the vast majority of cases. Many analysts called the Brewers "interesting" without taking the leap to calling them competitive (or contending, which they are doing in an extremely weak NL Central).
Related Reading:
130 Games of New Wave
An Ode to Chumps
What is underrated about this gang of audacious upstarts is their potential for playoff personality and supreme star power transition on the national stage. These Brewers have a set of undeniable villains on their roster, as well as some stylish counterpoints, workingman depth, and future stars. I've previously called these Milwaukee Nine the 2002 Angels for the Ivy League Analytics era based on their penchant for turning an unsuspecting roster into a contender with (almost) everything falling the right way. That team saw a blend of aging stars (Kevin Appier and Tim Salmon, for example), unsuspecting breakouts (Scott Spiezio and maybe even Ramon Ortiz), and newcomers (Troy Glaus and John "Mr. Clean" Lackey) ride a combination of their best possible seasons (in most cases) to World Series glory. Should the Brewers continue their success, fans and analysts will probably be tempted to look back on this team and see a group of players where almost everything went right.
But these contenders have star power in another way, which solely exists through their respective personalities. Who are these 2017 contenders? Milwaukee features a roster of unexpected stars, unexpected depth contributors, and veterans who are holding court while a gang of younger prospects are forging their own identities as stars. [Stats compiled Wednesday evening, June 21, 2017].
THE SLUGGING VILLAINS: Eric Thames (.334 Total Average [TAv]) and Ryan Braun (currently on DL, .292 TAv)
Eric Thames is amazing: there was so much anticipation wound within the fanbase after his signing, and any ideals about the slugger's shifted plate mechanics may have been mitigated by fan dissatisfaction with the shrewd business of cutting Chris Carter, the home run king of the 2016 National League. Yet herein rests the first contradiction of the 2017 Brewers, namely that a cost-saving move was not a tank move designed to orchestrate a team bad enough to land the top pick of the 2018 draft. Thames cut cost, yes, but aligned the 2017 roster to immediately compete and contend. There must be a supercomputer somewhere in Miller Park that GM David Stearns and company leaned on to analyze their $15 million deal to Thames with this as their forecast.
Yet Thames must be the villain. The positively sculpted first baseman looks like he stepped out of an Austrian body building contest, so much so that one wonders why the MLB does not allow ripped baseball players to don fitness speedos at the plate. Surely Thames is ripped enough to handle such an outfit, and one wonders if he's the Aroldis Chapman of the Brewers insofar as his workouts are so intense as to force his teammates from the gym at said time. With Thames, greater baseball surely feels that Milwaukee is reinstalling PED use within the Post-Steroids Era landscape, which is terrible for the moralizers until their favorite team has their own alleged user. Could you imagine Cubs fans reacting to a Kris Bryant positive test, or a Jake Arrieta doping clinic scandal? The loudmouthed John "This Late 30s Resurgence Is Totally Natural" Lackey would certainly have nothing to say of his own teammates' almost certain doping (and when Balco drug dealers insist that half the game is using, one must simply wonder who among each team is indeed using. And who cares?)
Mood: pic.twitter.com/GrxEO1ImjS

— Steve (@BrewersKeepTUTH) June 17, 2017
So Thames became the perfect villain, not simply for his bodybuilding finesse and outlandish WWE-style personna, but also for his legitimate appeal to playing the heel. I happened to be in Milwaukee for one of Matt Pauley's WTMJ pregame shows around the time of Weathergate at Wrigley Field, and Thames had just appeared with a supposed heel at WWE's NXT event in the Chicagoland area. Pauley set up the scenario for Thames as heel. Here the villain persona is perfect: Thames, just recently accused of using PEDs by the #1 wife-leaving chicken-eating punk Lackey (who files "knows a villain when he sees one" under "takes one to know one"), is appearing in Chicagoland alongside an entertainment industry heel ready to pump his own sculpted body alongside the wrestler:
Just catching up with NXT and I can only imagine the fantastic chats Kev had with Milwaukee Brewers superstar Eric "The River" Thames. pic.twitter.com/EKjKfh1CeL

— Tom aka The Big Dog™ (@TomBlargh) May 21, 2017
Even more perfect than Thames's christening as a bona fide villain is his place in the batting order next to baseball's evil cause celebre, that man who has improved since his involvement and suspensions from the Biogensis scandal, Ryan Braun. Braun is a perfect heel to play alongside Thames, a sort of veteran who understands "evil is just business," the kind of man who I must imagine asks his partner to play a soundtrack of boos to set the mood when the time is right. Braun gets off on the challenge of perfectly shoving his own perfection in the faces of lustily booing opposing fans, a legacy that is easily three years in the making:
every time road fans boo Ryan Braun it takes me back to the Philly fan yelling "Booooooo! Cheater!" as he homers https://t.co/KqUILBZtK0

— Jack Moore (@jh_moore) April 28, 2016
This is the face of a villain with a .312 career TAv driving 44.4 WARP (photo source). Go ahead and boo away!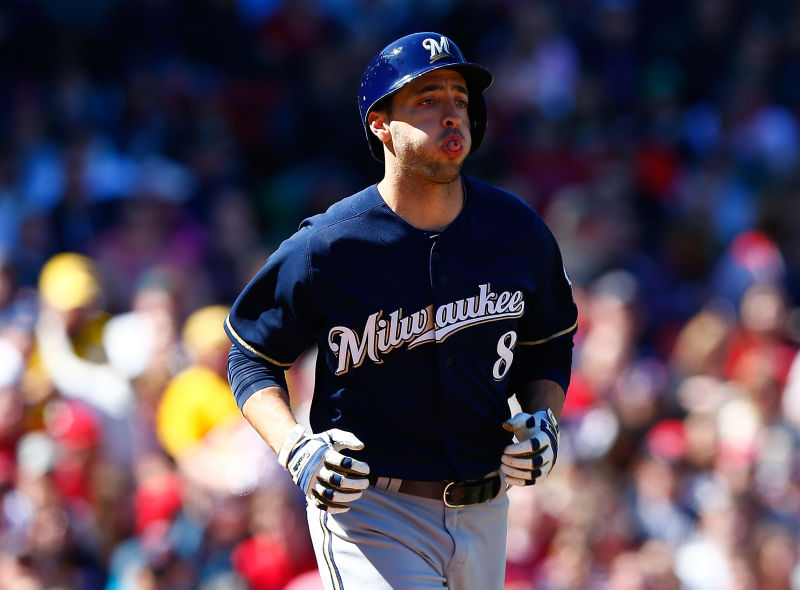 So the Brewers are off to quite a great start with playoff persona for 2017. I can imagine the amazement when Milwaukee, a team of absurdly audacious upstarts, makes the playoffs and National TV Broadcasters are welcomed with explaining the phenomenon of lustily booing fans during the Division Series. "This team just came out of nowhere, and yet there seems to be so much disdain for their core stars." Witness Braun and Thames, the Brewers stars who will play the perfect heels to drive media coverage and fan hatred of these bizarro Brewers.
THEE OBP MAD SCIENTIST: Eric Sogard (15 percent walk rate)
Every heel needs a counterpart. Imagine this counterpart to be the understudy of an Evil Bureaucrat, but the type of counterpart who is so perfectly good at their job as to surpass any moral judgment whatsoever. This is the counterpart that has perfected the insertion of precise scientific knowledge into the organizational structure, so as to return Pareto efficient practices not because it's the right thing to do but because it's his certain destiny to allocate resources in the best manner possible. THIS is Eric Sogard, the age-31 middle infielder who paraded into Milwaukee in early May to a chorus of fan resentment only to prove himself the perfect assistant to the EVIL slugging villains; yes, Eric Sogard is the Mad Scientist, specifically the Mad Scientist of On Base Percentage (OBP).
Jeff Curry, USAToday Sports Images, captured our counterpart in his natural environment: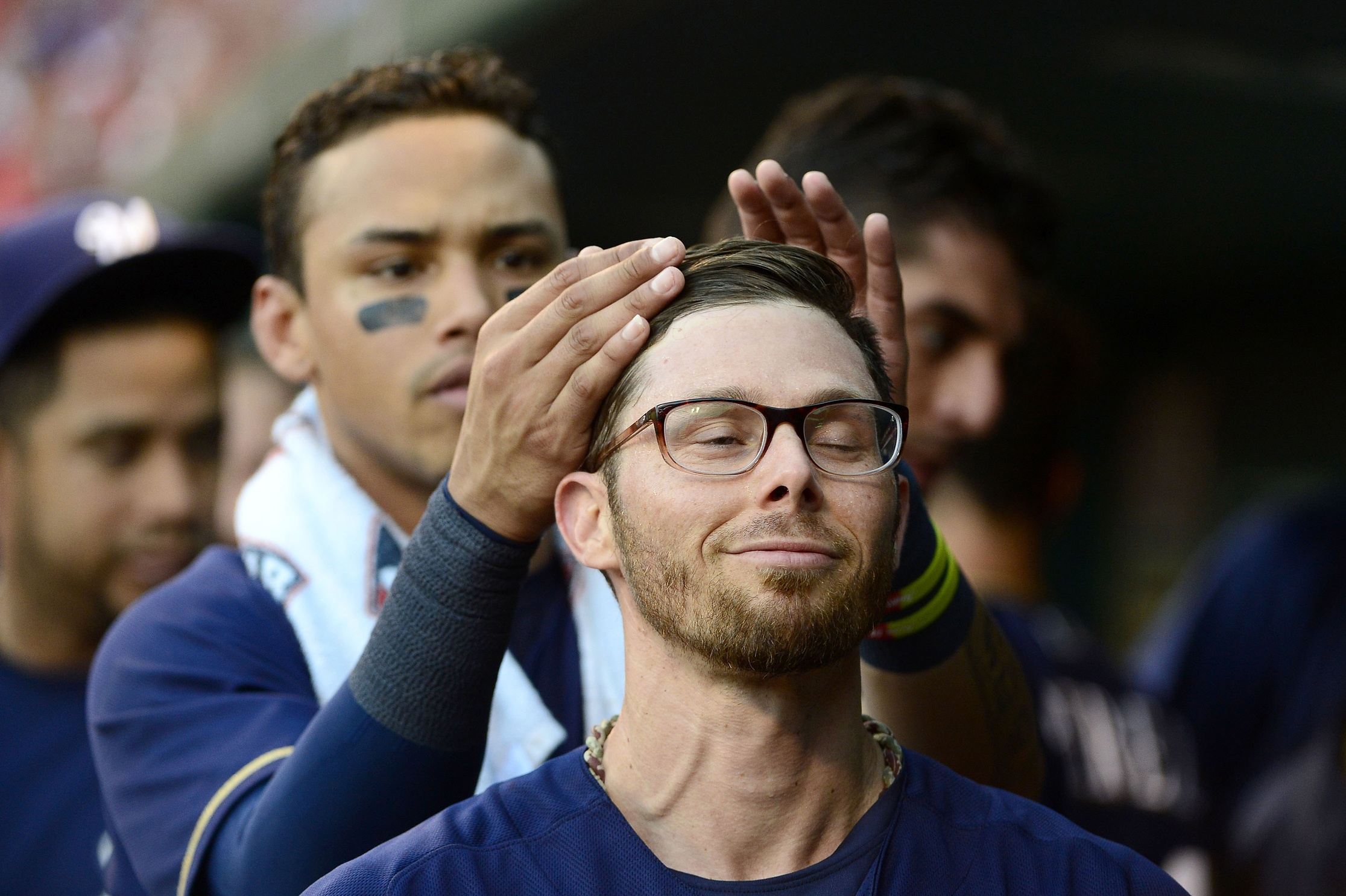 And Noah K. Murray, USAToday Sports Images, managed to find the Mad Scientist in action with one of the Slugging Villains: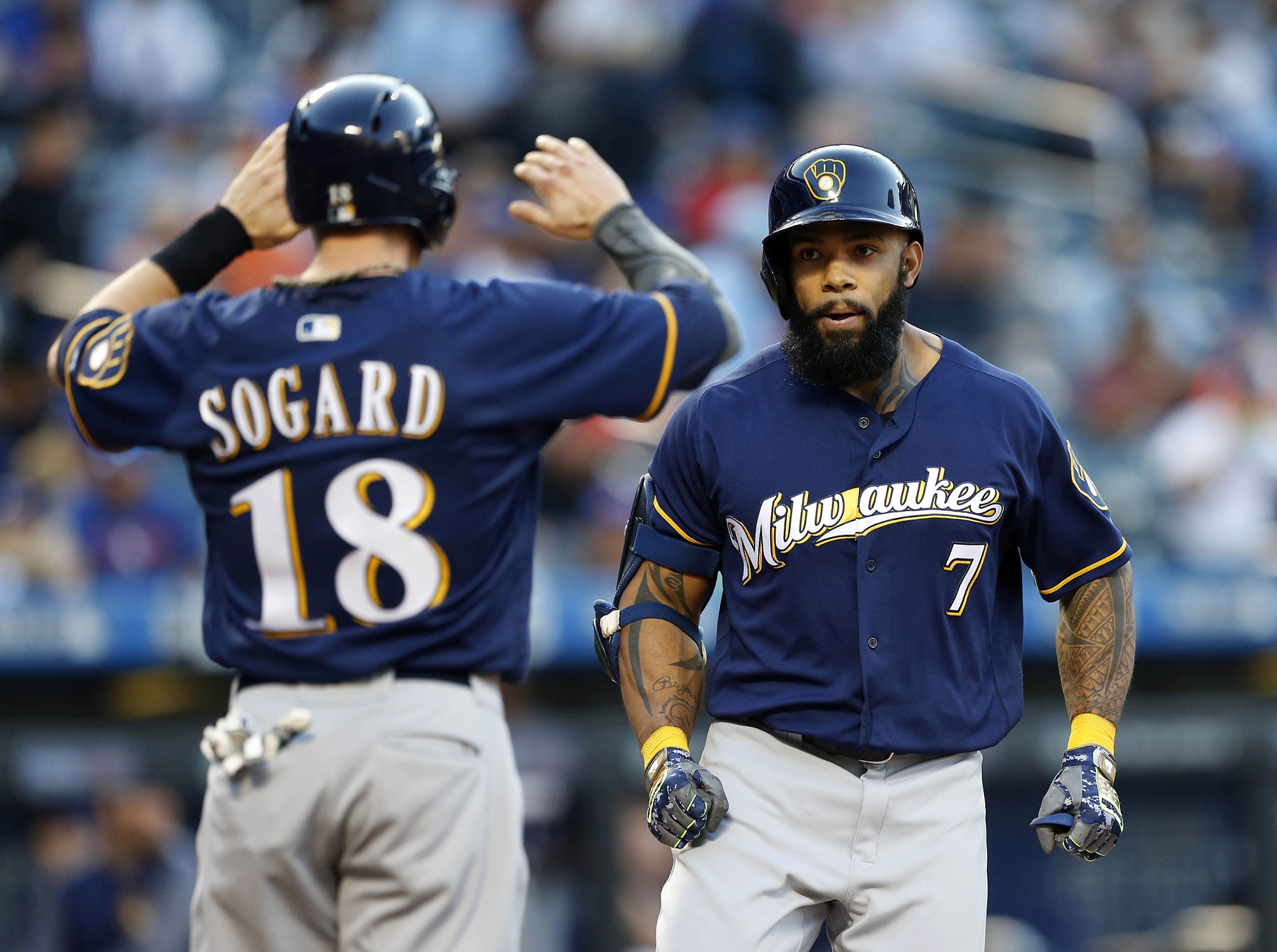 The best part about Eric Sogard is that he's the type of mad scientist who perhaps hides within plain sight. If the thin second baseman was not serving as a wicked double play pairing with Orlando Arcia or setting the table for Eric Thames, it's difficult to tell whether he'd be more apt to grace the pages of GQ to model workplace ready knowledge chic, or sell you a copy of the newest Algiers or Grizzly Bear record (a good thing!). This is the sign of the mad scientist of the highest order, for his appearances do not betray any type of knowledge above another, and thus he's perfectly suited to sustain his amazing lead-off skills for the playoff bound Brewers.
SMOOTH OPERATOR: Orlando Arcia (7.3 Fielding Runs Above Average)
I was going to write something here, but I believe recent video simply supports the ideal of Arcia as the Smooth Operator:
Arcia is the Smooth Operator for these Brewers, the joyful, mechanically perfect, gutsy, and perfectly timely shortstop who will perform unbelievable feats with such clarity that you will forget he's one of the youngest shortstops currently playing in the MLB. The beauty is that the Brewers already have one of the best defensive shortstops in baseball on their roster, and no one knows about it. A recent poll presented by a major media outlet quizzed fans on the best young shortstop in the game, and Arcia was nowhere on the list despite his place atop the MLB in terms of his glove (at a glove-first position no less). So a Brewers playoff run would almost certainly serve as a national awakening for the smooth operator, who would probably welcome the chance to face the brightest lights and return a superstar from a larger market after popping off one of his patented spin-throws.
THE EMERGING SUPERSTAR: Domingo Santana, Travis Shaw, Corey Knebel, Jimmy Nelson, Chase Anderson
There are a number of Brewers on the roster that are materializing some of their scouting reports that made analysts and fans dream some years ago. These range from the thrilling power of Domingo Santana, who is slowly but surely answering questions about his strike zone contact, to the ace-via-middle-rotation Chase Anderson, who is giving a glimpse of why it is important to stockpile middle rotation depth that might have a certain what if? about it. Jimmy Nelson also falls in this category for the Brewers, as does third baseman Travis Shaw, who is answering questions about his abilities as a platoon third baseman for the Red Sox. Travis Shaw looks like a strong cost-controlled starter for the Brewers, at worst a second-division starter who will serve as contending depth and at best a stunning depth guy who will emerge as a star to lead the club.
Mind you, none of this needs to be sustainable for it to work in 2017, which is a great lesson about rebuilding, win-now, and roster building in general: life is what happens when you're busy making plans. Which is to say that one can put into place the best baseball process known to humankind and still end up demoting Hall of Famer Kyle Schwarber midseason. Stars are never stars for long for the vast majority of baseball history: enjoy this while it lasts!
Corey Knebel is a bit more interesting in this group, as he perhaps had the most certain scouting profile of the bunch (unless one simply focuses on the middle rotation aspects of Nelson and Anderson). The Texas closer gained a job by happenstance for the Brewers, which is perhaps the birth of the vast majority of MLB closers. Knebel, however, had a high leverage relief pedigree since the scouting reports, and he just happens to be cashing in that ceiling to lead a bullpen for a stunning team of National League upstarts.
Anyway, there are multiple players on this Brewers club who could become team leaders for the next contender, and this group of five should not be viewed as exhaustive. This group will be, however, the most likely to gain notoriety should the Brewers push their contending effort deep into the season, and any playoff effort in 2017 seems impossible without this quintet.
THE WORKING CLASS STAR: Hernan Perez, Keon Broxton, Manny Pina, Jacob Barnes, Jesus Aguilar, Junior Guerra, Zach Davies, Jared Hughes.
I've already written about the wonders of "the Chump" recently, so I'll spare the verbiage on this group of players. But, the overall point is still crucial: these Brewers are succeeding precisely because a gang of second-chancers or organizational depth guys are seizing MLB roles. Zach Davies was scouted as a back rotation guy, and his 2017 campaign is bearing that out moreso than his excellent 2016 effort, but as the righty progresses it appears he has a chance to seriously answer questions about his stamina and ability to become an innings eater. This is the difference between a career at the back of the rotation (complete with Mike Leake or Ian Kennedy money) and a trip to the bullpen. Manny Pina is the Player To Be Named Later who is becoming a team regular, both in terms of his solid catching defense and his bat at a premium position. Serviceable supreme is not bad for a PTBNL. Hernan Perez is probably the best "chump" (a good thing) on the club, a superutility player that has helped the club bridge injuries to Braun (2017) and Santana (2016), cover for Arcia when he's slumping at the plate, or even start in place of Jonathan Villar, or give rest to a CF or 3B. Don't forget Jacob Barnes, the mid-draft relief anchor, or Junior Guerra, the most incredible upstart you could ever know.
These players round out a roster that could provide national TV networks a complicated feeling during playoff coverage, should the club continue to contend. The Brewers feature a robust group of players, some already detested by opposing fans and therefore ready to provide amazing primetime spectacle (imagine Braun hitting a crucial playoff homer in the face of opposing fan boos), and some ready to remind the national media that they should never have been forgotten in the first place. Yet, on the other end of the spectrum, these Brewers are the anti-Cubs, proving that it's perfectly fine if no one knows who you are, that you can win with Manny Pina and Hernan Perez and Junior Guerra and Zach Davies when the league is passing them up. And so the Brewers are primed to make their revenge, with a club that's almost absurdly well-situated to seize headlines and become a loved-and-hated storyline should they continue to contend. Certainly should they fail to contend deep into September or October, it will not be for lack of character.