The Brewers earned their only Sunday off day of the season as they completed a series sweep of the Padres on Saturday. After a sluggish offensive start to the season, the Brewers exploded for fifteen runs over the second and third games of the series, punctuated by Ryan Braun's dramatic home run on Friday and Christian Yelich's five hit game on Saturday.
| | | |
| --- | --- | --- |
| | Brewers | Padres |
| Thursday March 29 (F/12) | 2 | 1 |
| Friday March 30 | 8 | 6 |
| Saturday March 31 | 7 | 3 |
While the offense got going after a slow start, the starting pitching was more unsettled. If there was one common disappointment in the offseason amongst Brewers fans, it was the lack of moves to solidify the rotation. There were bargains to be had on the market. Rumors had the Brewers showing interest in several different arms, but not consummating any big deals. Combined with the health status of staff ace Jimmy Nelson, there's added pressure on the pitching staff to perform.
Chase Anderson took a big step forward last year, posting his lowest career DRA (4.05) by 1.16 runs and he was tabbed to make the start on Opening Day. Anderson baffled the Padres over six innings, allowing only one hit and three walks to go with six strikeouts. He leaned on his four seam fastball, throwing it forty nine times out of his ninety seven pitches. Interestingly, last year the only game he threw the four seamer more than half his pitches was … also his first start of the season. While he didn't induce many swings and misses on the pitch (only three whiffs on twenty-two swings, well below last year's 11.7 percent whiff percentage), he threw it consistently for strikes. His velocity on the pitch was 92.5 MPH, down from 93.75 MPH last season. However, his velocity readings on the pitch went up as the season progressed, before his injury interrupted his season.
The biggest concern from the outing would be his three walks in only six innings, with two of the walks coming after he had the batter at two strikes. The first walk was probably the most disappointing. Anderson got Chase Headley into a 1-2 count and couldn't put him away.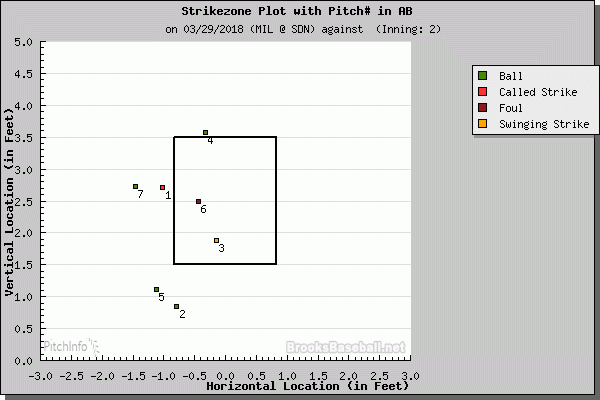 In this plate appearance, Anderson only threw four seamers and his changeup. After Headley swung through a changeup for strike two, Anderson tried to change his eye level by going up for a four seamer. Last year, batters swung at that pitch around fifty percent of the times Anderson threw it. Headley somehow laid off. After that pitch, Anderson threw a changeup low and away, a spot where he can bury the changeup and get the most swings and misses, but once again Headley laid off. After a foul on a four seamer in the zone, Headley threw his fastest pitch of the day at 94.6MPH and it, and the at-bat, got away from him. For Anderson to take another step forward and become a legitimate number two starter, these are situations where he needs to finish the batter.
---
Jhoulys Chacin received the second start of the season and it did not go well. Chacin failed to get out of the fourth inning. He allowed nine baserunners and four runs, including two home runs, in just 3.1 IP, striking out one batter.
Last year Jhoulys Chcain had a 4.13 DRA, his lowest since his 2010 season in Colorado. Chacin's success coincided with a pitch mix change. He focused on his sinker and slider, with both pitches having a career high usage rate. That increased usage came at the expense of his four-seam fastball, which he still threw as a change of pace pitch and a cutter, which has been effectively scrapped from his arsenal. Looking at the numbers, batters feasted off those two pitches, so limiting batters' exposure was probably a wise career decision.
What went wrong on Friday? His pitch mix did get slightly out of whack. He traded some sliders for sinkers, though combined he threw the pitches at around the same rate as last year. So Chacin was throwing the right pitches, which is good. However, he couldn't find the zone. Zeroing in on the 3rd and 4th innings, where he got himself into trouble and eventually run out of the game, we see a pitcher who was throwing around the plate, but not getting enough of it to get calls or induce batters to swing.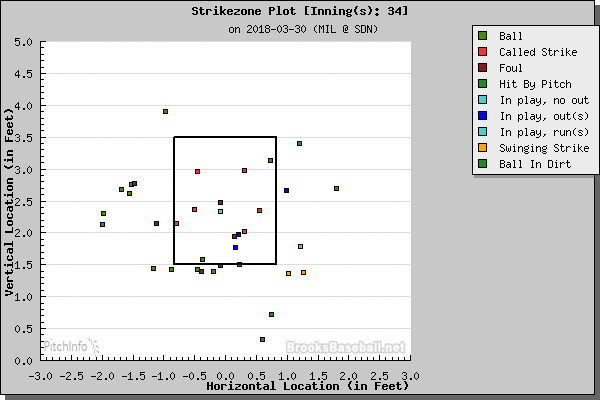 Last year, Chacin wanted to work down in the zone, and he could get some swings when he lived in the bottom third and slightly below. I count fifteen pitches around the bottom of the strike zone. Batters swung at five of those pitches, which is an unacceptable rate and well below his numbers from last year. For the Chacin experiment to work, he'll need to start working in the zone more so batters respect his arsenal and offer at more pitches.
---
The Brewers will spend the next week at home, opening division play with three games against St. Louis and then four against Chicago. Based on Baseball Prospectus' staff predictions, these are the two teams the Brewers will be competing with all season, so this week offers an early litmus test to see where each club stands. The Brewers' rotation is lined up so Chase Anderson and Zach Davies will get starts in each series.
---
Photo Credit: Jake Roth, USAToday Sports Images
Note: This article was edited after publication to add Strike Zone graphics, which were mistakenly excluded from original publication.