TOP PLAY (WPA): In the top of the sixth inning with nobody out, Ryan Braun broke the scoreless tie by going opposite field on the first pitch for his 18th home run of the season (+.162 WPA). Unlike last night, there was nobody on base for Braun, but a solo shot proved devastating enough as the Brewers held the lead for the remainder of the game. On the call during the game, Brian Anderson pointed out that "Braun is tied for eighth in the league in homers." And, unfortunately, that will stay true as Joey Votto also hit his 18th round-tripper last night.
It was a tough luck pitch for Patrick Corbin. It did probably catch a bit too much of the heart of the plate, but Corbin, who hadn't made many mistakes to this point, still tried to work down and away from Braun's bat. The Diamondbacks left-hander had six strikeouts through the five previous innings, only having thrown 60 pitches. He looked primed to go the distance if his offense could cache some runs in for him, but was outdueled by Jimmy Nelson.
There has been a little chatter about Ryan Braun being a possible trade chip for the Brewers, and one can imagine a very long line of general managers for his talents. Fortunately—or I guess unfortunately if you're looking for a firesale—Braun has been a joy to watch and, personally, I think there's little sense in dealing him. After all, the Brewers have actually been the best team in the league in July by fWAR (5.1). I don't know about you, but I don't necessarily think this team is as far from contention as the standings suggest, and I want to see a bit of 2016 before I make up my mind. I wouldn't begrudge Melvin that.
BOTTOM PLAY (WPA): In the bottom of the eighth, with none out and Inciarte on first, A.J. Pollock grounded into a double play (-.207 WPA). This was actually the third double play the Brewers would turn in the game as the Diamondbacks offense turned anemic.
KEY MOMENT
This turns out to follow the previously-discussed bottom play. Jeremy Jeffress had just come in the game in relief of Nelson's scoreless seven innings, being asked to deal with the top of the opposing order. After allowing Goldschmidt to reach following the double play, Counsell elected to switch go lefty-against-lefty and bring Will Smith out of the pen to face David Peralta. The Diamondbacks refused to oblige this match-up and pinch hit their offseason international free agent Yasmany Tomas. Tomas, who homered the previous game, made this a pretty tense at-bat, getting ahead in the count a couple times and running the count full. So tense, Smith—who really doesn't have a great pickoff move for a left-hander—tried to get the easy pickoff of Goldschmidt at first twice.
Smith ended up getting the better of his opposite number though. That is, with the help of home plate umpire Paul Schrieber, who wrung up Tomas on a called third strike that was on the lower end of the zone, but ultimately a strike.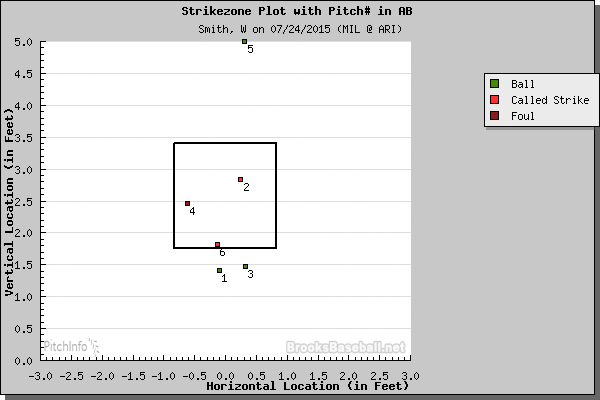 TREND TO WATCH
Francisco Rodriguez got his 22nd save of the season last night, continuing his streak. However, he did allow his first run in 26 innings, a streak dating back to June 28th. I think K-Rod is still the trend to watch for the consecutive saves streak. This could be the beginning of another 26-inning streak for the Brewers closer. Or could that streak get going with another team?
COMING UP NEXT
The third game of this four-game set sees Taylor Jungmann (5-1, 2.04 ERA) take on Rubby De La Rosa (7-5, 4.83 ERA). Jungmann hasn't lost since June 14th and, in fact, hasn't even been part of a losing effort since June 25th. Over his last four starts, he has struck out 20 over 30 innings pitched, allowed only five earned runs and a 0.87 WHIP. Ryan Braun will try to keep his hot streak going and move out of his eighth-place tie in home runs with division-rival Joey Votto.
Lead photo courtesy of Rick Scuteri-USA TODAY Sports