Against an inexperienced starter and a couple of solid bullpen arms, the Brewers offense couldn't accomplish much. Against one of the worst relievers in baseball, the hitters finally broke through. Losing streak: OVER! Record: STILL BAD!
Best Play: Matt Garza struggled, Ariel Miranda did pretty well, yada yada yada, Tom Wilhelmsen came on in the ninth. The score at the time was 6-3 Mariners, but it wouldn't stay that way for long. Keon Broxton greeted him with a solo home run, his second of the day, which trimmed the deficit to 6-4. Hernan Perez followed up a Ryan Braun strikeout with a double to deep center, bringing Chris Carter to the plate. With a full count, the slugger turned on a fastball and managed to squeak it over the outfield wall in right-center.
Carter's two-run blast (+.358) tied the game at 6-6 and gave the Brewers a 44.5 percent win probability, their highest odds since the third inning. Three batters later, Scooter Gennett would bring home Domingo Santana, pumping the team's chances up to 87.3 percent. It was a stunning comeback, considering the Brewers headed into the ninth with just a 2.8 percent chance of winning. Chalk it up to Wilhelmsen being terrible — and Milwaukee capitalizing.
In his first year with the Brewers, Carter has seen his bat ebb and flow, as it's done in the past. He's gotten hot again in August, though, with a .250/.377/.500 line heading into Sunday's action. Will that production cool off heading into September? Yeah, probably. But if it doesn't — if Carter closes out 2016 on a high note — he could become a hot commodity on the offseason trade block. Not bad, for a low-cost January free agency signing.
Worst Play: Tyler Thornburg had entered in the bottom of the eighth, retiring the side in order, so he would be the pitcher of record after the offense's heroics. Since he needed just 11 pitches to record those three outs, Craig Counsell wisely decided to leave Thornburg in. The choice didn't look wise initially, however, as Ketel Marte worked the count to 3-2 before leading off the bottom of the ninth with a single to left.
Marte's single (-.132), representing the tying run, brought Milwaukee's chances down to 68.7 percent. He'd later advance to second base on a wild pitch, bringing Seattle 90 feet closer to a counter-comeback. Prior to the errant pitch, though, Thornburg would retire Nori Aoki and Shawn O'Malley; two pitches later, he'd induce a flyout off the bat of Robinson Cano to seal the victory.
Now that Jeremy Jeffress and Will Smith have gone to those big contenders in the sky, the Brewers have real uncertainty at closer. Or they would  have real uncertainty at closer, were it not for Thornburg's breakout this season. The kind of reliever that can pile up 30 pitches to end a six-game skid is the kind of reliever you construct your future bullpen around. While there are no guarantees with ninth-inning guys — remember the implosions of John Axford and Jim Henderson — Thornburg has done as well as anyone, and he stands a good shot of keeping this up.
Trend to Watch: The Brewers wouldn't have had the chance to come back if the bullpen had imploded like Garza did. Thankfully, Jhan Marinez excelled in his regular role as the stopper, facing the minimum seven batters across 2.3 innings. My colleague Travis Sarandos and I have each written about the righty, but I think we've both glossed over what might be his defining attribute: a high ground ball rate. Of the seven balls in play against him Sunday, just two went into the air; he's kept the ball on the ground an even 50.0 percent of the time this season, per FanGraphs.
Strangely, Marinez hasn't attacked the bottom part of the zone, as most ground ballers do. Many of his pitches have leaked up, in fact: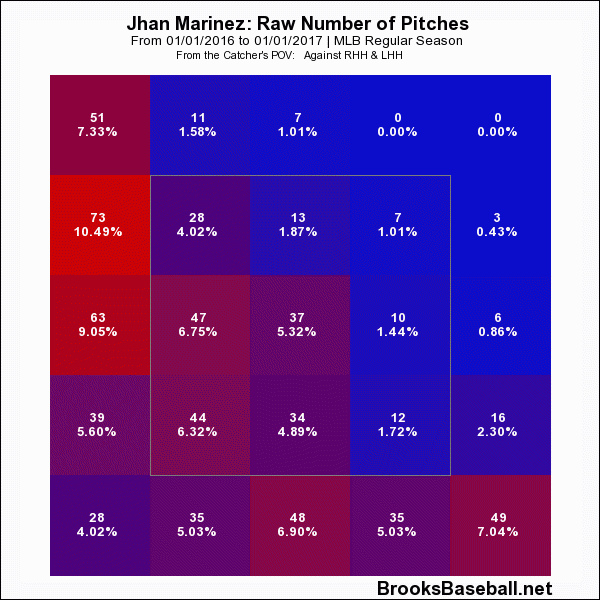 Despite this, he still manages to get a ton of grounders, and mostly on those pitches he deigns to throw low. We saw this on Sunday as well — although many of Marinez's offerings traveled into the upper regions of the zone, the ones in the lower areas stayed on the ground when put in play. For some reason, hitters just can't take advantage of those high pitches.
Milwaukee has a sizable gap between its infield and outfield defenses. The club's .764 ground ball defensive efficiency is the eighth-best in baseball, while it ranks in the bottom half of the majors in efficiency on fly balls, line drives, and popups. Presumably with this in mind, Brewers pitchers have garnered grounders at a decent clip — their 45.8 percent ground ball rate, by FG's calculation, puts them 12th in baseball. Marinez has topped that, which seems to have benefited him. Even as his strikeout and walk rates have regressed, the continued presence of ground balls has granted him some level of dependability.
Up Next: The Brew Crew heads home for 10 contests, starting with three against the Rockies. Jimmy Nelson, Chase Anderson, and Zach Davies will square off versus Chad Bettis, Jon Gray, and Tyler Anderson, respectively. After that, it's all NL Central for the next month (seriously, August 25 to September 25). Let's hope that Carter, Thornburg, and Marinez make these next few duels more watchable than the first six-and-8/9 games of this road trip.