The 2016 Major League Baseball season is in the books. Well, I mean, a champion does still need to be crowned. But for ninety percent of the league, it is already time to look ahead to next year. Or, possibly, to lament the fact that you lost your most important fantasy baseball league's championship on a tiebreaker. Not that I'm bitter, no, but whatever floats your boat.
Related Reading:
2015 Awards
The thing is, if you're a Milwaukee Brewers fan, "looking ahead to next year" is pretty much all you've done for, well, two years now. So, for just a moment, let's look back, instead–on the best, worst, and wackiest moments that 2016 gave us.
The Ickey Woods Memorial Award for Most Outlandishly Overenthusiastic Celebration
Congratulations to this year's winner, one special fan who ticks off every possible box in the Overenthusiastic Celebration Checklist.
-Is it an April game between two teams with zero hope to contend this year? Check. The Brewers and Phillies were basically playing as extended AAA teams, trying to staff a future Major League contender at a date to be named.
-Is it a play that affected the final outcome in no way, shape or form? Check. It didn't even count as a "play" in the scorebook, actually.
-Was the on-field player involved as anonymous and replacement-level as humanly possible? Check. It was Tyler Goeddel who dropped the popup. A Rule 5 pick, Goeddel might have perfectly exemplified the quality of play better than anyone–he belonged in the minor leagues, but the Phillies had to keep him up so they played him anyway, even as he cost them more than a full win.
-Was alcohol involved? I mean, I wasn't there, I can't say for sure, but… Yeah, you know, screw it. Check.
Without further ado, I present: Drunk White Guy Dancing, Because April Baseball. Now someone with more free time than I just needs to animate in a little "Brewers Win!" explosion as he pumps his fist, or karate chops, or whatever that little motion is supposed to be. Hopefully, in a year or two, when this team wins more than once in a while, we can get some real mileage out of that .gif!
The Kyle Kendrick Memorial Award for "Most Unpleasant Bump in the Road"
For the second straight year, it was like somebody forgot to tell the Brewers that the season was starting.
No, they didn't post a tragic winning percentage below .300 in the month of April, like last year, but the 8-15 mark for the month that the team did manage wasn't exactly something to be proud of. Kicking all of that off was an opening day nightmare, in which the Brewers got pantsed in their home stadium by Madison Bumgarner and the Giants, 12-3. Wily Peralta, Milwaukee's Opening Day starter more or less by default, lasted just four innings and gave up five runs–but it was Ariel Pena's garish, five-run eighth inning, which included a back-to-back-to-back home run binge by the top of the order, that sealed the deal and rubbed salt in the wound:
Even for a team coming into the season with no real expectations to speak of, you never "expect" to get your lunch money taken like that on the first day of the season.
(As a side note, this award is named for Kyle Kendrick, the even-more-by-default 2015 Rockies' Opening Day starter who inexplicably shut the Brewers out to open the season, then posted a -2.5 pWARP over the rest of the year. Kendrick spent 2016 at the AAA level, because of course he did.)
The Antoine Williamson Memorial Award for "Underwhelming Prospect of the Year"
Entering the season, right-handed pitcher Jorge Lopez was ranked as the 71st-best prospect by Baseball Prospectus. That was less than a year ago, but it feels like it was a whole different lifetime. While it was expected that Lopez would struggle some in the pitcher-averse air of Colorado Springs, but there was no preparing for the bloodbath that would come: a 6.81 ERA, 1.97 WHIP, 6.2 BB/9, and a 6.89 DRA — yes, it was as bad as it looked.
Eventually, the front office decided to mercifully move Lopez back down to AA Biloxi, which was enough to right the ship. Freed from the pitching Alcatraz that is the Rocky Mountains, Lopez cut his DRA to 2.97, the best mark of his young career. His WHIP, K/9, and BB/9 numbers settled back into where they should be, as well.
It's a testament to the strength of Milwaukee's farm system right now that Lopez might leap straight from "Underwhelming Prospect of the Year" to the opening-day roster. Neither Chase Anderson nor Jimmy Nelson pitched above replacement level this season, and if anyone wants to trade anything with long-term value for Matt Garza he's out the door in a matter of minutes. Lopez's underwhelming 2016, we hope, will serve as nothing more than an amusing side note on a stellar career.
Though going forward, the Brewers will want to take special care to avoid Lopez's turn in the rotation when they travel to Denver. Some pitchers can pitch in altitude, some cannot–and thin air clearly turns Lopez's offerings into a feeding frenzy.
The Adam Lind Memorial Award for "Most Mutually Beneficial Trade"
For over a year we've known that the Jonathan Lucroy trade was coming; we just didn't expect it to come twice in succession. Then again, it wouldn't be a Brewers trade deadline without something positively absurd happening.
Down the stretch, Lucroy was his usual magnificent self. In fact, he posted identical .297 True Average marks both prior to and following his move to Texas. Defensively, he was below average for the first time in his career. But on the whole, he still represented a significant improvement over the incumbent Robinson Chirinos.
And for Milwaukee, well, outfielder Lewis Brinson was the keystone to the deal. From that standpoint, things couldn't have possibly worked out better. Brinson was aggressively assigned to AAA Colorado Springs after struggling through 77 games at AA Frisco, and he delivered a .382 average with four homers and four steals in 92 plate appearances for the SkySox.
After going 4-4 last night in 1st @skysox game, #Brewers No.2 Lewis Brinson hits GS tonight: https://t.co/r1DvOxjP2Q pic.twitter.com/F9PiKff5jE

— MLB Pipeline (@MLBPipeline) August 4, 2016
As if that wasn't enough, Brinson also played the best defense of his career in Colorado Springs. His 6.3 FRAA mark in just 23 games is even more than he posted in 2014 over almost three times that stretch. Reports on Brinson at the time of the Lucroy trade sang the praises of his defense (makes difficult plays in center field look routine, and routine plays look childishly easy), and it appears that he's even taken a step forward since then.
And that's not even getting into Luis Ortiz, who put up a 1.95 ERA for Biloxi following the trade. He's probably a year or so behind Brinson on the development curve, but he's got the ceiling of a front-end starter, and PECOTA's Similarity Score of 93 to standout Detroit rookie Michael Fulmer should inspire more optimism.
Texas upgraded their roster at a key position, and Milwaukee acquired two potential stars. That's how you want it to work out every time.
The Sal Bando Memorial Award for "Worst Transaction of the Year"
I drew a lot of backlash last November on social media when I panned the Francisco Rodriguez trade. It seemed that everyone else was focusing on how easily we had shed an aging player with a bad personal reputation, and, in hindsight, I was pretty much the only tout at the time arguing that there was a massive price bubble starting to form in the relief market. But I earned the right to gloat on this one, because history proved me 100 percent correct in my initial take on the Rodriguez deal.
Yes, Francisco Rodriguez is old. And, yes, he has a spotty personal history. But none of that mattered this summer. It was a feeding frenzy for bullpen arms this July, and the Brewers took great advantage (we'll get to that later). But, still: though I'm careful to note that I'm not extending this criticism to any other part of the rebuild, selling low on Rodriguez was a tragic misstep. The ancient, onetime fireballer is the baseball version of a classic car that's been fitted with an electric engine: the power's all gone, but he still gets you where you need to go. K-Rod now relies on his changeup and command, and he has for years now, but the man is still an effective pitcher. The 2016 season marked only the second time in K-Rod's career that he wasn't worth a full win–but he finished at the 0.9 mark, and was even an honorable mention for Most Underrated Closer in the BP Closer Report Awards this year. Of Milwaukee's bullpen arms, only Tyler Thornburg was worth more in terms of PWARP this season than Rodriguez.
Make no mistake about it: Blaine Boyer, who was signed in February to round out the bullpen, was a waste of a roster spot: a 1.47 WHIP, 5.81 DRA, and -0.6 wins taken off the final tally. And had they not blown their load last November, Milwaukee could have been carrying K-Rod instead–and had another asset to move at a premium come July.
Instead, the Brewers got Javier Betancourt. I'll let BP's Chris Crawford give you the elevator pitch on Betancourt:
"I would not trade an elevator for Javier Betancourt. There's absolutely nothing sexy about the profile. 50 hit at best, can't play shortstop. But he can really play second base, and look, a potential middle infield starter is a nice thing to have, even if it's hitting eighth or ninth in your lineup."
Sounds an awful lot like another Betancourt the Brewers gave entirely too many plate appearances to once upon a time. On the aggregate, though, this bad deal looks like a curious outlier for the otherwise stellar Stearns regime.
The Highlight-Reel Play of the Year Award, Sponsored by the Coalition to Bring Yasiel Puig and His Howitzer of an Arm to Miller Park
Late in the season, the Brewers occasionally would show flashes of what they can be someday. Wednesday, Sept 7 was a prime example of that. On paper, the game meant nothing, but with the hated Cubs headed for the playoff, and former Cub Matt Garza on the mound, there was incentive to play spoiler.
In the fourth inning, Jonathan Villar opened the scoring with a solo home run off of rookie starter Mike Montgomery. Two innings later, the Cubs' Anthony Rizzo launched a solo shot of his own to knot the game at 1 apiece. In the bottom of the 8th inning, it was Villar breaking the deadlock with his second home run of the game.
Rizzo was due up second in the top of the 9th as the Cubs' took their last licks against Tyler Thornburg. Thornburg got Kris Bryant swinging to lead off the inning, one out. Rizzo, who, including the homer, had two of the Cubs' three hits to that point, worked the count full.
The 3-2 offering was a fastball out over the plate, and Rizzo tattooed it to the deepest part of Miller Park. Thornburg's body language, a dejected, full-body turn as his arms dangled, limp, at his sides and his head hung back, mouth agape the ball erupted from the bat, read "I just served up a game-tying home run." To everyone in the park, and to everyone watching at home, there was no doubt the ball was headed out of the yard. But Keon Broxton, stationed in centerfield, had Rizzo played perfectly:
Instead of a tie game, the Cubs were down to their final out. And it was over. Everybody in the stadium knew it–especially the Cubs fans: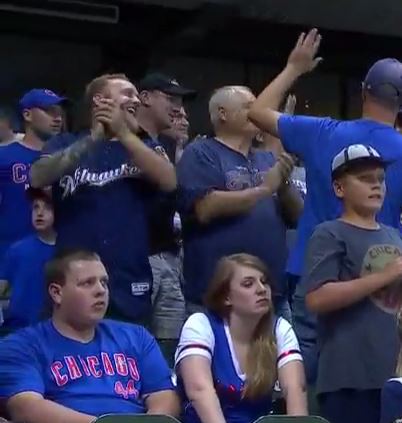 The Cubs might yet win the World Series this year. But on that day, thanks in large part to Keon Broxton's heroics, the Brewers took the best they had and came out on top. It's something to be proud of, no doubt.
The Ruben Quevedo Memorial Award for "Least Valuable Pitcher"
Wily Peralta made ten starts down the stretch, won three of them, posted an ERA south of 3.00, and looked feisty enough that the Brewers just might bring him back for another year after all. Peralta's fall from grace as he went from "Opening Day starter" to "Junior Guerra's opening act" was ugly, to say the least, and at one point he was all but certain to take this award running away–but Peralta managed to affirm himself after righting the ship in the minors.
Taylor Jungmann, on the other hand, posted the following stats for his aborted sophomore Major League campaign: six starts, two relief appearances, a 7.76 ERA, a 1.76 WHIP, 6.1 K/9, 5.7 BB/9, 10.1 H/9… you get the point. He was tragically bad at his job. And when he made eight more starts at Colorado Springs, things only got worse: a 9.87 ERA and 2.39 WHIP were the lowlights of the program, and it earned Jungmann a one-way ticket back to AA Biloxi.
Once freed from Coloardo, like Lopez, Jungmann was able to look like a professional pitcher once again. But in the meantime, at least a handful of young starters have leapfrogged Jungmann in the team's short-and-long-term plans. A year ago, he was coming off of a fine rookie season, and looked to be a rotational mainstay for the next half-decade at least. Now? Barring a torrent of injuries, Jungmann may have made his last appearance for the Brewers.
The Steve Sparks/Phone Book Memorial Award for "Wackiest Spring Training Storyline"
Before it was "Donald Trump made a deal with Hillary Clinton to throw the election," but after it was "the Russians shot down that Malaysian plane," the hot conspiracy theory of this spring was Hank, the Imposter Dog. Basically, a bunch of Brewer fans noticed that Hank looked different than he used to, and Travis Sarandos wrote the unofficial Hank Truther Manifesto at BrewCrewBall.
In summary: sometime between the 2014 and 2015 seasons, Hank–the lovable stray dog the team found at their Spring Training complex before the '14 season–died, and was quietly replaced with a doppleganger. New Hank was a wonderful baseball dog and a very good boy, yes he was–but he wasn't the real, authentic Hank. Or so the theory went.
It took approximately thirty minutes for the rest of the Internet to jump on board. And by the time the story had made the rounds, the Brewers were actually forced to hold a press conference providing proof that the new Hank was actually the old Hank after all:
Here it is, the un-smoking gun. Proof of Hank the Dog's true identity. #HankTheDog #Brewers #DogPressConference pic.twitter.com/QcgerhyrD6

— Jimmy Carlton (@jimmycarlton88) March 4, 2016
Yes, that's right. No less than six different doctors, a hospital administrator, and a public notary were required to debunk the Imposter Hank theory. What can I say? When you're waiting to start a season that's more or less DOA, stuff gets real weird…
Though it does need to be noted that, absent among the various Herbie Hancocks of medical professionals is Hank's paw print. Were we lied to? You can draw your own conclusions.
The Alex Sanchez Memorial Award for "Least Valuable Player"
If the Brewers and Rangers collaborated on the most mutually beneficial trade of the year, it was the Brewers and Mariners who paired up for the most mutually pointless deal, baseball's version of a Craigslist swap where one party shows up with broken merchandise and the other shows up with counterfeit money.
Luis Sardinas slashed .181/.203/.264 in 77 plate appearances with the Mariners before they tired of his act and waived him. Ramon Flores, the Brewers' compensation for Sardinas, was not much better–a .205/.294/.261 slash line with just ten extra-base hits in 289 plate appearances before the Brewers outrighted him less than a month after Sardinas got cut.
(To his credit, Sardinas looked okay for the Padres after they claimed him. But to Seattle, in evaluating this trade, I'm sure that fact is of little consolation.)
Flores showcased big-league-capable pitch selection, but not much else. Maybe he can catch fire in the rarefied air of Colorado Springs in the next year or two and some mess of an organization will unwisely give up something useful for him. One can dream.
The Scott Podsednik Memorial Award for "Most Pleasant Surprise of the Year"
Junior Guerra is like the guy you cheat and make for your video game franchise because your team has one gaping hole that needs to be fixed. He came from the White Sox by way of Italian and Venezuelan Leagues, he was a relief prospect a decade ago, he was a MLB catching prospect, and at some point he developed a split-finger pitch that made the best hitters in the world look flat-out stupid. In just a couple of short months Guerra eclipsed the rank of "AAA retread" and started inspiring the query: is he for real?
Looking back from the end of the season, both FIP and DRA suggest that Guerra is due for some regression, with DRA forecasting the gloomier skies. But for a waiver claim to start 20 games and add 1.3 wins to the team's ledger on his own is phenomenal. Still, we shouldn't be so quick to pin lofty hopes on Guerra. In order to compete, the team needs to find a true ace elsewhere to anchor the staff. But behind this anchor, Guerra is absolutely capable of pitching in the middle of the rotation for a contender and winning a playoff game or two before he hangs up his cleats. It'd be a pretty sweet turn of events for a guy who has pitched in thirteen different professional leagues over his career.
The Mike Fiers Memorial Award for "Most Bittersweet Moment of the Year"
On the evening of Thursday, October 6, the American League Divisional Series between the Blue Jays and the Rangers kicked off. Many Brewer fans were rooting for the Rangers, who rostered Carlos Gomez, Jonathan Lucroy, Jeremy Jeffress, and kept the recently-retired Prince Fielder in their clubhouse. But the Blue Jays swept them in three games, ending the championship dream for a host of Milwaukee fan favorites.
And during Game 1, it was another former Brewer carving the Texas lineup to shreds. Marco Estrada, whom the Brewers swapped for Adam Lind before the 2015 season, threw eight and a third innings of four-hit ball, only conceding a run when Elvis Andrus led off the ninth with a triple. Estrada may have missed out on his first career complete game, but it was arguably the finest performance of his life, in one of the biggest starts he's ever had to make.
Minor League Player of the Year
By now it's a well-known story how David Stearns took on Aaron Hill's contract to get Isan Diaz included in the Jean Segura trade, then flipped Hill for two useful prospects just seven months later. If the Brewers win a championship or five over the coming years, the Diaz trade will likely be looked back upon as one of the main reasons why. As it turns out, Isan's monster 2015 which won him the Pioneer League MVP was no fluke. Among what has arguably turned into the best farm system in baseball, Diaz is one of the crown jewels. If he posts another season like the last two in 2017, he has a shot to be the #1 prospect in all of baseball in the spring of '18.
Since I last covered Diaz, the Arizona Diamondbacks have parted ways with Dave Stewart and Tony La Russa–probably the right move–and the Brewers have assigned Diaz to the Arizona Fall League. In Arizona, Diaz has slumped, going 3-for-17 in four games, but those numbers come with the ultimate small-sample-size caveat. Plus, one of those hits was an opposite-field home run. And through it all, he's looked just as good as ever, rarely overmatched against the elite pitching of the AFL.
And, of course, he's still been far more impressive than Tim Tebow.
The Sean Berry Memorial Award for "Worst Stat Line of the Year"
It's a fact: not every Brewer pitcher is going to hit like Yovani Gallardo. And, really, I don't expect much from pitchers with the stick. In fact, the list of expectations pretty much boils down to "put yourself into position to get lucky every once in a while," "don't be stupid," and "don't embarass yourself."
Junior Guerra, who, as I mentioned, has history as a catcher, acquitted himself nicely at the plate this year with eight hits in 35 at-bats. And Wily Peralta's 5-for-39 for a .128 average, while nobody's idea of "good," is passable from a pitcher.
Beyond that, the nine hole was a black hole. Zach Davies, Jimmy Nelson, and Chase Anderson were the only Brewer pitchers to tally more than 40 at-bats apiece, and each of them hit between .080 and .100. Each of them finished with fewer sacrifice bunts than Guerra, too.
But the President of the Pitchers Who Can't Rake Club has to be Matt Garza. In 28 at-bats this year, Garza collected one single. He walked twice more, for a final batting average of .036 and on-base percentage of exactly .100. In 28 at-bats, he struck out 17 times.
Even True Average has no love for Garza, pegging him at .074 for the year. So, no, it wasn't just a stretch of bad luck. The Brewers' pitchers embarrassed themselves as a group, but Garza was in a class all alone for futility.
The Nega-Sal-Bando Award for "Best Transaction of the Year"
Oh, you just know your new front office is crossing over into "Billy Beane in Moneyball" territory when they cause the baseball world at large to start pondering "wait, are we being anywhere near rational with this bullpen thing?" And it could be that the Brewers trading Will Smith to the Giants for Phil Bickford and Andrew Susac was that trade.
Smith, of course, has been one of the most steadily dominant relievers in baseball for a couple of years now. But Bickford was arguably San Francisco's top prospect, and Susac could project as a starting catcher, maybe a really good one, at the Major League level soon. If you felt Smith could help the Giants with their even year postseason voodoo, it was a justifiable overpay. If you foresaw that they'd get steamrolled by the Cubs, it was a tragic overpay. Regardless, everyone could agree it was an overpay, and the Brewers got far more than they would have in a fair market.
"Now, this is a story, all about the day,
I traded my number one prospect away.
I should've been careful not to overpay,
But instead I brought the Fresh Prince out to the Bay."
–Brian Sabean

Biggest Silver Lining of the Year
The St. Louis Cardinals tried their hardest to run their playoff streak to five years, but even winning their last four games was not enough. The Mets and Giants both finished one game ahead of the Redbirds, just managing to shut them out of the postseason. That's one less year on a window of contention that is shutting rapidly as the core of the team ages, and the starting rotation struggles with consistency. At the end of the season, Milwaukee and St. Louis both had their seasons end on the exact same day. Meanwhile, Brewers fans have a bright future to look forward to, and a football team to watch, in the interim.
Most Valuable Pitcher
For his entire career, Zach Davies has been underrated. He was drafted in the 26th-round out of high school, and was considered something of a fringy prospect, even when the Brewers traded Gerardo Parra for him last July, due in large part to his 6′-even, 155-pound frame. We've come a long way since the publication of Moneyball, but "he doesn't look like a ballplayer!" still carries far more weight than it should. Davies had a stellar 2014 at AA Bowie, an even better 2015 at AAA Norfolk, and looked better than replacement level over six big-league starts for the Brewers down the stretch. He wasn't so great at Colorado Springs, but what pitcher is?
Still, it wasn't until April 17th that Davies made his first big-league start of 2016. But once he was in the rotation, he was not going to be dislodged from that spot. Davies made 28 starts for the Brewers, and he won 11 of them to pace the team. His 3.58 DRA and 3.3 pWARP were also tops on the pitching staff.
In fact, that pWARP number was good for 33rd best among starters with at least 150 innings pitched: Better than Cardinals' ace Carlos Martinez, better than Pirates' ace Francisco Liriano, better than Cubs' ace Jake Arrieta, better than Brewers legend C.C. Sabathia, and just short of fellow Brewers legend Zack Greinke.
The scouting line on Davies has always been that he will end up a back-end starter. As a rookie, he already eclipsed that pedigree. Even with a little bit of regression he could still be a mid-rotation guy; but on the flip side of that coin, if he continues improving, he could be something truly special.
Most Valuable Player
Sometimes, superstars happen by design. When the Brewers drafted Ryan Braun fifth overall over a decade ago, everyone following the team expected big things from him. But that's not always the case–just ask the Toronto Blue Jays, fresh off a trip to the ALCS. Arguably, their two most integral offensive pieces are Josh Donaldson and Jose Bautista. Donaldson, of course, was stolen from the A's before anyone knew just how good he was, and Bautista was a multi-time waiver-wire retread before discovering his power stroke in Toronto.
As a small-market franchise that can't build through free agency, finding these diamonds in the rough is essential to the Milwaukee franchise. Earlier this fall I argued that Yasiel Puig's struggles and unpopularity in Los Angeles have offered the Brewers a once-in-a-lifetime chance to steal a franchise player off of someone else. But last winter, the Brewers already did that to the Astros.
Jonathan Villar has always had tons of potential, but with Carlos Correa entrenched at shortstop and a short/long-term combination of Luis Valbuena and Alex Bregman at third, not to mention franchise icon Jose Altuve manning second, there was simply no place for him to play in Houston. Luckily for Milwaukee, general manager David Stearns had worked in the Astros' front office before being hired by the Brewers. In that capacity, Stearns had a front-row seat as Villar tweaked his swing in the second half and transformed into a whole new hitter. Recalled to the big-league team with the expansion of rosters in September, Villar went 8-for-21 down the stretch and stole three bases, to boot.
But nobody, not David Stearns, not even Villar himself, saw what was coming in 2016. His slash line of .285/.369/.457 was ideal for a leadoff hitter, and he also led the big leagues with 62 stolen bases, slugging 19 home runs to boot. Of course, Villar was also thrown out stealing 18 times, but that's a rate north of the 70 percent margin which is widely considered beneficial. Indeed, with Villar and Keon Broxton, the Brewers had two of the ten most valuable players in the league by Stolen Base Runs.
And, as if leading the team in WARP wasn't enough, Villar also handled three different positions. Villar held down shortstop for most of the season, then slid over to third (and second) base without a hitch after Orlando Arcia was summoned to the big club. The NLCS is being played right now between two teams who have made positional versatility a cornerstone of their building process; Villar gives the Brewers that same sort of flexibility, able to be deployed across the infield.
At the end of the day, it's still hard to fault the Astros for the move. Correa was worth more wins than Villar was, and Bregman took over the third base job. The issue is, they gave up a very, very useful piece, and all it cost the Brewers was an anonymous pitcher named Cy Sneed.
Really, that's the kind of year it was for the Brewers. The two biggest accomplishments were "getting crowned #1 farm system in baseball" and "avoiding 90 losses." It's a transitional phase, but the fact that the franchise was able to find a Most Valuable Pitcher and Player from an unsung rookie and a bargain castoff bodes well for the future.